A while ago I visited Hartgers Radiators in Zutphen for my cooling system.
I had received this company as a tip from Martijn for having a radiator made. Once inside, it indeed feels like 'the place to be' for customization.
In addition to fitting the radiator from an electric Smart, I had also looked at standard radiators from engines or mopeds, but that just didn't fit. Sketched and estimated on the spot and later worked this out in more detail in Excel.
In the front there will be two radiators of 20 x 20 cm each and at the rear above the rear axle for the batteries one of 15 x 15 cm. The fan is the starting point for customising the radiators. In the front I place the fan behind the radiator and in the back above it. After some searching, my shortlist is now:
For batteries: Spal VA69A-A100-87S = blowing, 128×128 mm, draws 2.5 – 3.2 A and has a flow of up to 270 m3/hr
Motor / Controller: Spal VA68-A100-83A = suction, 182×182 mm, pulls 2.4 – 3.6A and has a flow up to 430 m3/hr
The depth of a fan is easily 60 mm, but it must fit.
I'm just puzzling a bit with the expansion tanks or overflow barrels. My preference is for a closed system and therefore with expansion tank. However, I am not going to be able to place this at the highest point for the batteries.
From a V70 I found a nice compact reservoir.
Anyway, in the end I have to get rid of three expansion tanks, so where am I going to leave them and how am I going to vent?? To be continued….
Busbar / powerbar dimensions
Another dimensioning issue is that of the busbars. When working out my contactor box , there were two more busbars for the distribution of the high voltage on my shortlist. The longlist consisted of MSB4, Victron, Blue Sea 2104, BEP 777-BB4S-500 and the VTE Bus Bar with cover.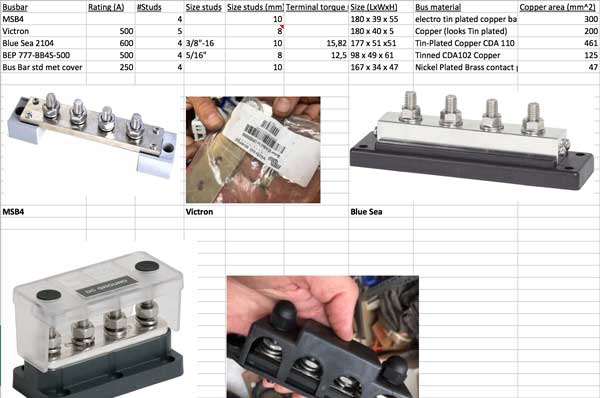 The Blue Sea 2104 had the highest rating, the most copper and a good euro/mm2 copper factor. It fits well in the intended contactor box and, due to its larger width, offers slightly more space for connection and cabling than the BEP. So I finally chose the Blue Sea 2104. It is indeed a decent busbar.
This busbar / powerbar serves to distribute the power neatly and safely. However, I also have to make various connections, for example between the battery modules and in the front battery box.
I visited Daniel from whom I also bought the Tesla batteries. Sailed along with his electric boat and viewed his sailing workshop, speaking of a project, impressive!
He also went to his warehouse where he had an open screwed Tesla battery pack.
He gave him a number of busbars with which Tesla connects its battery modules.
These are semi-flexible and rounded 25 x 3 so 75 mm2. In a Mitsubishi PHEV there are much smaller busbars of 17×2, so 34 mm2.
The high-voltage cables that run under the car are in my case 35 mm2. I had received this for use with the same motor and my initial CALB battery pack with a lower rated voltage. So for my new package, this is over dimensioned. Where I can use flat busbars, I will work with 25 x 2 = 50 mm2 from E-Cu copper flat staff.
By placing modules on the head, especially in the rear battery box, the pole orientation is nicer for connecting in series. Taking into account connectivity, the bottom drawing would be an option.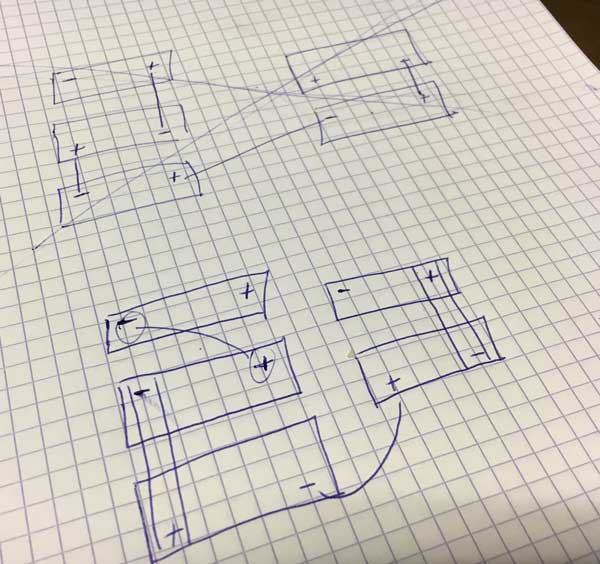 As a result, I could use two copper platstaff busbars, but it doesn't really get any more convenient and moreover, my current box design is also aimed at regular positioning of the modules. So I'm going for the following solution:
I will simply use the same 35mm2 cable to connect the modules in series. I'm still considering using single Anderson connectors. That way I can screw all the connections, mount the modules and finally connect them to each other. However, it is also an additional transition and therefore a possible source of malfunctions. If possible, I ensure a safe way of connecting without these connectors.
Rear battery box with separate frame and cover
It is important to be able to access everything well. I'm going to design my rear battery box so that I weld the frame to the car so that I can fill it with modules and connect the modules and then screw the outer box around it as a cover.
To be continued.