In my full electric Volvo Amazon wagon all small things to reduce auxiliary power consumption help. In the end all the 12V components also consume from on the battery pack via the DC/DC converter. The less power consumption of components, the better. Therefore often all lighting is changed into LED giving you more light but less Amps.
LED headlight regulations
For running day light upgrading to LED is not trivial. On the one hand, because I think it is important to install good lamps that do not hinder other road users. On the other hand, this has to do with the legislation or 'Regulation vehicles'. Article 4.2 states:
The sale or entry into service of a new component or separate technical unit intended to form part of a vehicle of the vehicle categories referred to in Article 4.1 shall be prohibited if that component or separate technical unit:

a.

does not comply with the requirements of the relevant EU directives and regulations listed in Annex IV or XI to Directive 2007/46/EC, Annex I to Regulation (EU) 167/2013, and Annexes II and V to VIII of Regulation (EU) 168/2013, or the relevant UNECE regulations; or

b.

does not bear the type-approval mark required by the relevant EU Directive or Regulation, or by the relevant UNECE Regulation.
It must therefore have an ECE type approval. The most beautiful and easiest way to upgrade to LED would be to use LED bulbs with H4 fitting. But take a look at a reputable manufacturer like Philips and their X-tremeUltinon LED [~H4]. But on that page it says:
Not for use on public roads in Europe
Important: in the EU and some other areas, LED lighting is reserved for the interior and for use off public roads. LED headlights, fog lights and indicators are currently not ECE homologated and are not intended for use on public roads. When you use LED headlights, fog lights, and turn signals on public roads, you risk losing your driver's license and your car insurance and getting fined. Philips LED lighting is not available in all countries.
After some further research, it turns out that H4 LED lamps with ECE mark 'by design' are not possible. So all the H4 LED lights you can buy are illegal for use on the road. The H4 lamps fall under the European regulation ECE-R20 while for LED lamps the ECE-R-112 applies.
MOT approved anyway?
Surprisingly enough a car with such H4 LED bulbs can pass the Dutch MOT. This has to do with the fact that the MOT only tests for part of the underlying road traffic law. In the Netherlands, this goes relatively smoothly on the aspect of lighting. You only need to check for light image. As long as this is good, it is good in terms of MOT, but not yet legal. In Germany, for example, you can't get away with it at all.
LED headlights with ECE approval
So I continued my search while focussing on complete 7 inch LED light units with ECE approval. For a relatively small amount on money you can buy lamps from China. However they often have only a E-approval, often E9. Even in case these markings are authentic, it is not sufficient. In the end I only found two complete light units with ECE approval. Note: these are for right hand traffic (often left hand drive cars).
JW Speaker 8700 Evolution 2 (ECE)
Details can be found on their website.
As far as I'm concerned, this lamp has two disadvantages: 1) I don't like the looks. 2) The price, the cost about 400 euros each.
Truck Lite 27290C
Details can be found on their website.
This lamp is already more friendly priced and less ugly. After reading some reviews I decided to buy this lamp. Low beam draws 1.5 Amps per lamp and high beam 2.7 Amps. For comparison, H4 halogen draws 4.5 Amps and high beams 5 Amps.
LED headlights on Volvo Amazon
I ordered the lamps from Bowers in the UK. The construction feels solid and the lamp is indeed provided with the relevant marks.
Comparison H4 halogen vs LED headlights
It will take a while before the electric combi drives, so I have already put the lamps on our regular driving Amazon as a test.
Then put the lamps in. Even halfway in the dark, that was really a piece of cake. Apparently it was not a piece of cake because in the dark I had changed some wires so that the lamp flicker on high beam and on the left on low beam mode also the high beam was on. That has now been resolved.
I'm still not sure if I think they're too modern. Immediately looked at the difference. The LED light is much whiter and therefore brighter and clearer.
Significantly more light than the H4 halogen lamps. (Sorry for the poor focus.)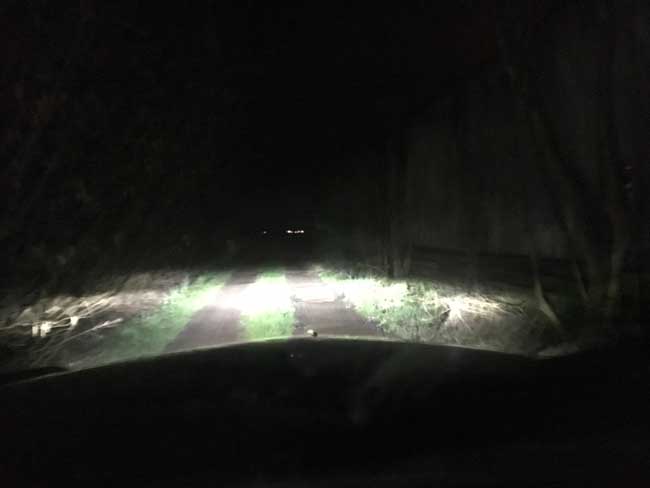 However, the adjustment does not seem optimal to me yet. I'm under the impression that they can go a little higher. Although it may be that I was also on the bumpy path a bit different with the H4 halogen photo.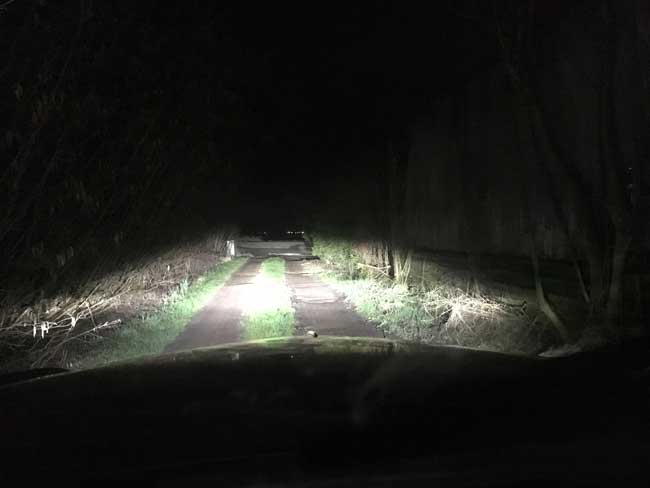 And below a short driving impression.
In the coming period I will leave the lamps on our red Amazon to see how I like it. In addition, next week to the MOT as a test for the light image.
Update MOT
In the meantime I have been to the MOT. Compliments from the judge, the lamps have a very good light image.
In terms of adjustment, they were indeed allowed to be a bit higher, mainly the left one. Now let's see how it works in practice. The car is approved so MOT again until 2020.