In this blog post a summary of the activities of recent times. I will write a blog post a little less often and instead post more photos on Instagram and my Old Volvo Facebook page. So follow me on Instagram: @oudevolvo and/or like my OudeVolvo Page on Facebook. These photos are also on my front page.
Welding trailing edge
In the design of my rear battery box, I still had to make a good connection to the car. With my car, that part was completely rotten. With my father's car I saw that there is a profile in it, so to make sure that the box also fits his car, I have to take that into account.
Fortunately, I had kept exactly that part of my sheet metal donor combi .
So neatly freshly made and put in the zinc primer.
And then welded into it.
Overhauled 3.99 rear axle
I also bought a wagon rear axle with 3.99 ratio. This has been used since a total overhaul 8000 km so definitely still good.
Because I bought my combi in non-driving condition, I don't know if that rear axle is good at all. An additional advantage is the other transmission, 1:3.99 instead of 1:4.56.
Expansion tank cooling system batteries
In my blog post about the dimensioning of the cooling system , I already wrote that I had found a nice compact expansion tank from a V70. However, it was not compact enough to be able to place it at the highest point in the cooling circuit of the batteries. So I continued searching on the Internet and on the local scrap yard.
In the cold had a lot of hoods open, but many were either already empty or too large and then mainly too high expansion tank. Interesting was the Alfa Romeo 145, but the best options seemed to be an expansion tank from a Volvo 440.
Or a power steering oil reservoir from a Daewoo Matiz.
But at that time I did not have enough insight into the exact available height so I went back to measure properly and make a dummy.
With that, on an even colder day, we went back to the junkyard.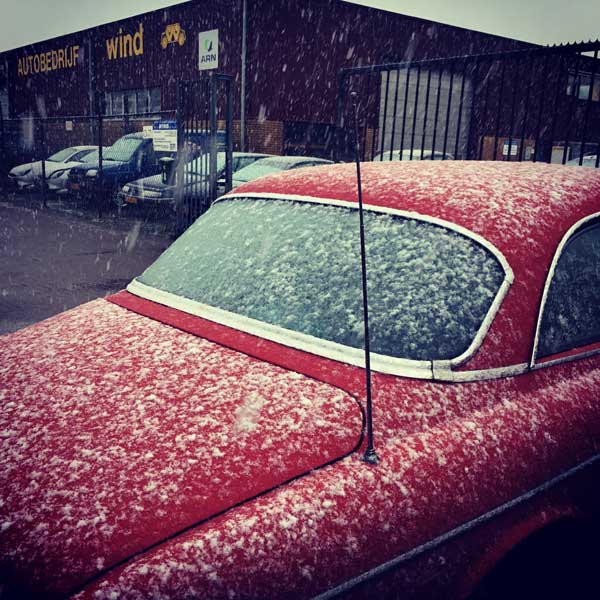 Had a few more hoods open, including that of a Volvo 940, but in the end those two I had already seen seemed to be the best. So both the reservoir was taken out of the Volvo 440.
As from the Daewoo Matiz.
And that of the Volvo 440 fits perfectly after removing the original mounting on the bottom.
Thanks to Ben van Tinustuning for thinking along about the design of the cooling system itself and optimal location and configuration (overflow vs expansion and whether or not highest point or with air vent). And he also had good tips for the heater and blower issue.
Heater and blower layout
In my previous post I had just cut out the support of the DC-DC converter because I couldn't fit it in together with the heater. The newest idea was to put the DC-DC converter at the bottom, so I started working on that.
The most important question then became: Where should the blower be?
And an option that was a bit more difficult to try was only drawn for a moment.
The disadvantage of that option is that you suck in the fresh air high and can therefore be relatively warm in the summer. In addition, it is very tight. At the same time, that is the best thing in terms of airflow and placement. So first let's see how it came out in terms of further components, so a heater housing was put in.
And put together and that worked out pretty well.
So I took the plunge and grabbed the grinder. I still had to remove a bit more than hoped, but the blower is nice.
The advantage of that place now also appears that I can put a recirculation valve in it.
So from there close the hole in the bulkhead and provide a mounting place for the blower.
And then you can no longer press the blower into the hole from below, so I had to remove just a little more above the blower. But to get rid of that edge and bring back the original look, I reuse part of the old heater as a cover.
Inspiration visit New Electric
Finally, I visited New Electric for some more coordination and consultation and immediately gained a lot of inspiration and ideas.
Next year with fresh energy! Happy holidays and a happy New Year.